☀️ GM friends!

Top Stories 👩‍💻
Our highlighted updates from everything related to the Giveth Galaxy and the GIVeconomy 🌌
🫶 Meet the Giveth Makers Our flagship recurring community event is back! Meet The Giveth Makers is a special event series where a select group of verified project owners will each deliver a short presentation on their vision, mission, and the impact they are making. This will be followed by an interactive session, allowing participants like you to engage directly with these changemakers, ask questions, and explore possibilities for future collaborations.

Our upcoming event will be live on our Discord and Youtube channel and is scheduled for September 6th 9am Costa Rica (add our event to your calendar to see it in your timezone). This is a great chance to see your giving in action, and we really hope you can make it (👉RSVP here)!

📈 QF on Giveth The results from the Giveth Alpha Round of July 18 to August 1 are IN! Thanks to your support, we raised $11,737 worth of donations to participating projects. That means that along with our $10,000 matching pool, we managed to raise over $20,000 in our first QF round. We're only getting started with QF, so stay tuned for future rounds!

💜 GG18 Speaking of QF, thanks to everyone who donated to Giveth in the latest Gitcoin Round! Your support means the world to us. Stay tuned for stats on how we did.
🇪🇺 Giveth Europe Tour We're still recovering from our eventful Euro trip to ETHBarcelona and EthCC. If you couldn't make it or just want to relive the experience, check out our event recap article that includes links to our favorite updates and talks.

🌱 What is ReFi? One of our favorite use cases for web3 is regenerative finance. Explore our latest article on ReFi in crypto to understand exactly what we mean by regenerative finance, how it works and how you can support ReFi projects on Giveth!
🔴 OP for your Project We just sent out our first batch of OP tokens to the first 97 projects that integrated their Optimism address. If you're a verified project and want to receive $25 worth of OP tokens, just add your OP address on your project page to be eligible for future rewards!
---
Featured Project 🙌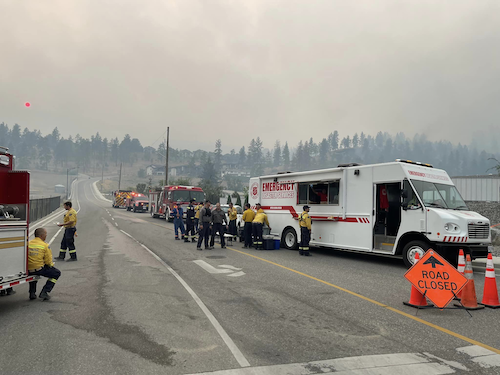 In this edition of our Featured Projects, we shine a spotlight on two initiatives that are actively supporting those affected by the devastating wildfires in Canada.
Mamas for Mamas 🫂
Mamas for Mamas is a Canadian charitable organization dedicated to supporting individuals and families facing various poverty-related struggles. They provide vital resources and services to caregivers and children in need, striving to break the cycle of poverty through innovative approaches. While their name reflects their maternal focus, they welcome caregivers of all gender identities and expressions.
In response to the 2023 wildfires in Canada, Mamas for Mamas has taken swift action. They are actively involved in distributing essential materials and offering support services to families affected by the fires. Your support for Mamas for Mamas not only aids their ongoing mission to combat poverty but also contributes to their emergency relief efforts during these challenging times.
SUPPORT THIS PROJECT ON GIVETH
Salvation Army in Kelowna Wildfire Relief 🪖
In the face of raging wildfires, Kelowna's Salvation Army stands as a beacon of hope, providing immediate relief to affected communities. They've been consistently delivering meals to firefighters, aiding local rescue workers, and distributing material donations to those in need. Moreover, they offer a safe space for individuals experiencing trauma and grief to find solace.
Now, they need our support more than ever. Your donation directly contributes to the essential resources and manpower required to assist those affected by the wildfires in Kelowna. It ensures that hot meals are served, children find comfort, and families move one step closer to recovery.
SUPPORT THIS PROJECT ON GIVETH
---
Newly Verified Projects 🏆
In this section, we highlight some of the newly verified projects on Giveth. This is a great place to discover exciting initiatives and support them early on in their Giveth journeys, while of course earning some sweet GIVbacks. 😍
ReFi Medellín is a local initiative in Medellín, Colombia, committed to nurturing a sustainable and equitable future. Spearheaded by a passionate team, their mission is to empower the city's youth to address pressing challenges like poverty, inequality, and youth unemployment.
You can be part of this change by supporting their initiatives, and your donations will directly contribute to their mission of empowering Medellín's youth for a better tomorrow.
🃏🎲 Fau0x Salon Governance RPG Card Deck
The Fau0x Salon Governance RPG Card Deck is designed for in-depth discussion and problem-solving. This innovative card game allows participants to step into the shoes of fictional character archetypes and navigate complex governance scenarios. Your support will help make this exciting project a reality and enable teams to enhance their Web3 governance experiences.
Bankless Ukraine is dedicated to bringing blockchain, DeFi, The Metaverse, and Web3 to non-English speakers. Only 5% of the world speaks native English, and roughly 15% have some English proficiency. Building non-English-speaking communities is essential for Web3's evolution. Help Bankless Ukraine make Web3 more inclusive.
This project aims to revitalize the Meier mini ramp, an iconic skate spot in Rio's North Zone. Through your support, they can restore this beloved space to its former glory, complete with a lively event celebrating skate culture. Join in honoring Jadson Brian's memory and giving back to the community. Donations can make a real difference, so show your support today!
Questbook, trusted by leading projects like Polygon, Solana, and Compound, is a versatile grants management tool with over 20,000 developers on board. It simplifies the complex process of grant management with a user-friendly interface and robust analytics, allowing organizations to focus on their core missions. Support Questbook's mission to revolutionize grant management by contributing to their project on Giveth.
Fairdrive is reshaping digital asset storage. Aligned with Web3 principles, it returns control of data to individuals, fostering a transparent, inclusive, and user-centered digital ecosystem. By backing Fairdrive through Giveth, your contributions directly fuel ongoing development and innovation, enabling feature enhancements and expanding capabilities.
Homeless Entrepreneur's mission is to promote economic empowerment and poverty reduction through work and active citizenship, thanks to both public and private civic partnerships. Their goal is to improve the quality of life for people living in social exclusion.
👩💻 Women Biz
Women Biz is a Peruvian web3 community. Since January 2022, they've hosted 16 free events in Lima, attracting 700+ members. Their mission: simplify web3 for women, and now you can show them your support by donating on Giveth
🔥 GasHawk
GasHawk is the solution to Ethereum's high and unpredictable transaction fees. By continuously monitoring the network, GasHawk predicts the optimal moments for transactions, potentially reducing fees by up to 95%. This cutting-edge technology aims to revolutionize how people use Ethereum, offering both time and cost savings. Support GasHawk's mission to make Ethereum transactions more efficient by donating today.
Climate Action Njombe is a multi-stakeholder platform uniting the community to combat the pressing challenge of climate change. They aim to educate, amplify voices, and implement effective strategies for climate adaptation and mitigation. Their mission is to foster collaboration, understanding, and coordinated action in Njombe district, with the goal of becoming a model for the entire nation. You can support their efforts by donating through Giveth to help them make a meaningful impact.
CryptoConexion is a Spanish-language platform dedicated to blockchain, Web3, cryptocurrencies, AI, and the metaverse. Offering 100+ free Spanish tutorials, amplifying the work of Latino innovators, and actively bridging the gender gap in tech, they're fostering a more inclusive tech community. Your donation will help them advance tech and promote inclusivity.
---
GIVfriends 🫶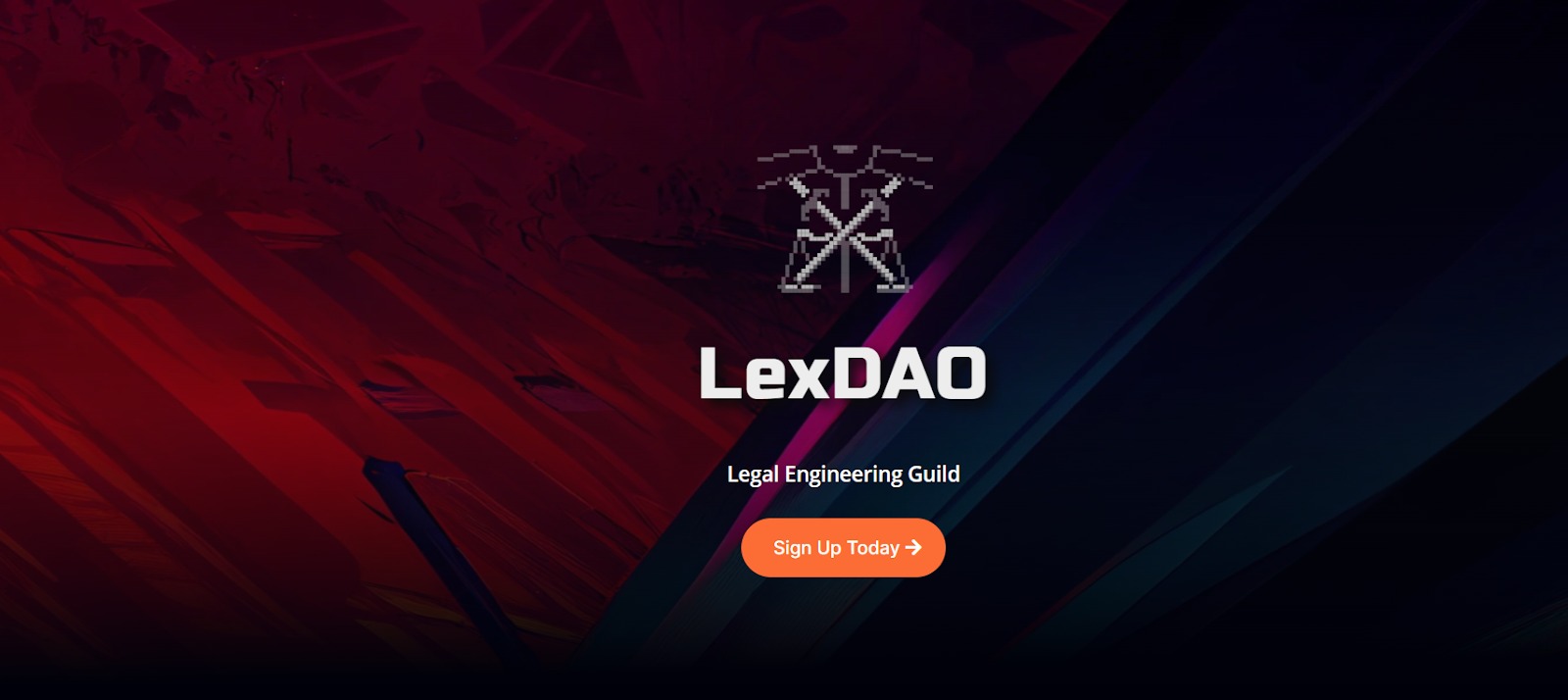 This month's GIVfriend is: LexDAO, a community of legal experts on a mission to make legal services more accessible, efficient, and user-friendly for everyone. LexDAO leverages blockchain technology to simplify and revolutionize legal processes.
Their aim? To lead the way in developing innovative legal methods and blockchain protocols that replace trust with code.
How? By training certified legal engineers and creating blockchain applications under the LexDAO seal.
Find LexDAO on Giveth to be part of the change!
---
Tweet of the month 🐦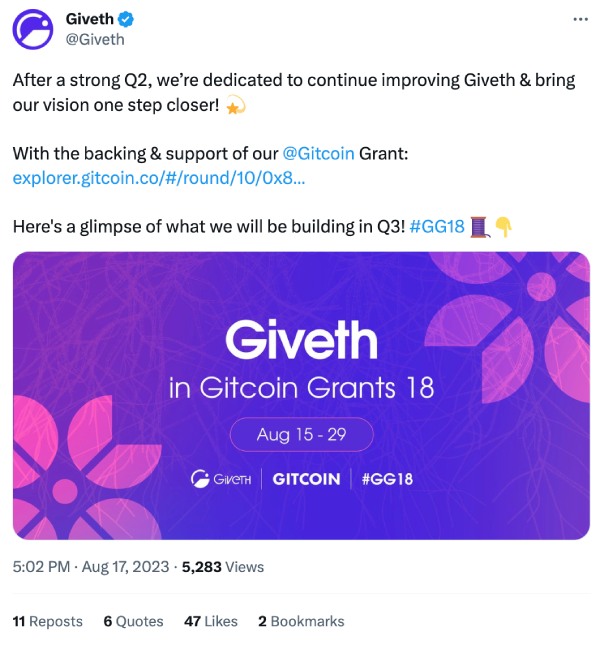 Meme of the month 😎