☀️ GM friends!

Top Stories 👩‍💻
Our highlighted updates from everything related to the Giveth Galaxy and the GIVeconomy 🌌
(💙,🧡) Support Giveth on Arbitrum We're raising funds on Arbitrum's New Protocol Ideas QF Round on Gitcoin to bring the Giveth dApp to Arbitrum & give thousands of nonprofits access to a whole new fundraising ecosystem! If you have funds on Arbitrum, we'd appreciate your support (even a small donation can make a big difference). 🙏

🔴 QF on Optimism Giveth is launching a Quadratic Funding round on Optimism starting October 9th! If you're a project that would like to participate, follow the steps here to get yourself ready and earn 25 free OP tokens (around $30 USD at current value) in the process!

🙌 Onboarding to Giveth We know web3 can be a bit confusing if you're new to the community. That's why we created a special onboarding page to help anyone new to crypto learn how to get started on Giveth, from making their first donation to boosting projects with GIVpower!
🌍 Planet x Giveth We recently had a conversation with the Planet team to discuss the blockchain for good space, and how we can all work together for a positive impact on the world.
❤️‍🩹 Creating Impact for Morocco and Libya BanklessDAO organized an X space with Giveth to help raise awareness for the recent earthquake and floods in Morocco and Libya (more on how you can support below).
🫶 Meet the Giveth Makers Do you want to get inspired? Join us for the upcoming October session of Meet the Giveth Makers, a special event series where a select group of verified project owners tell us about their vision, mission, and the impact they are making.
---
Featured Project 🙌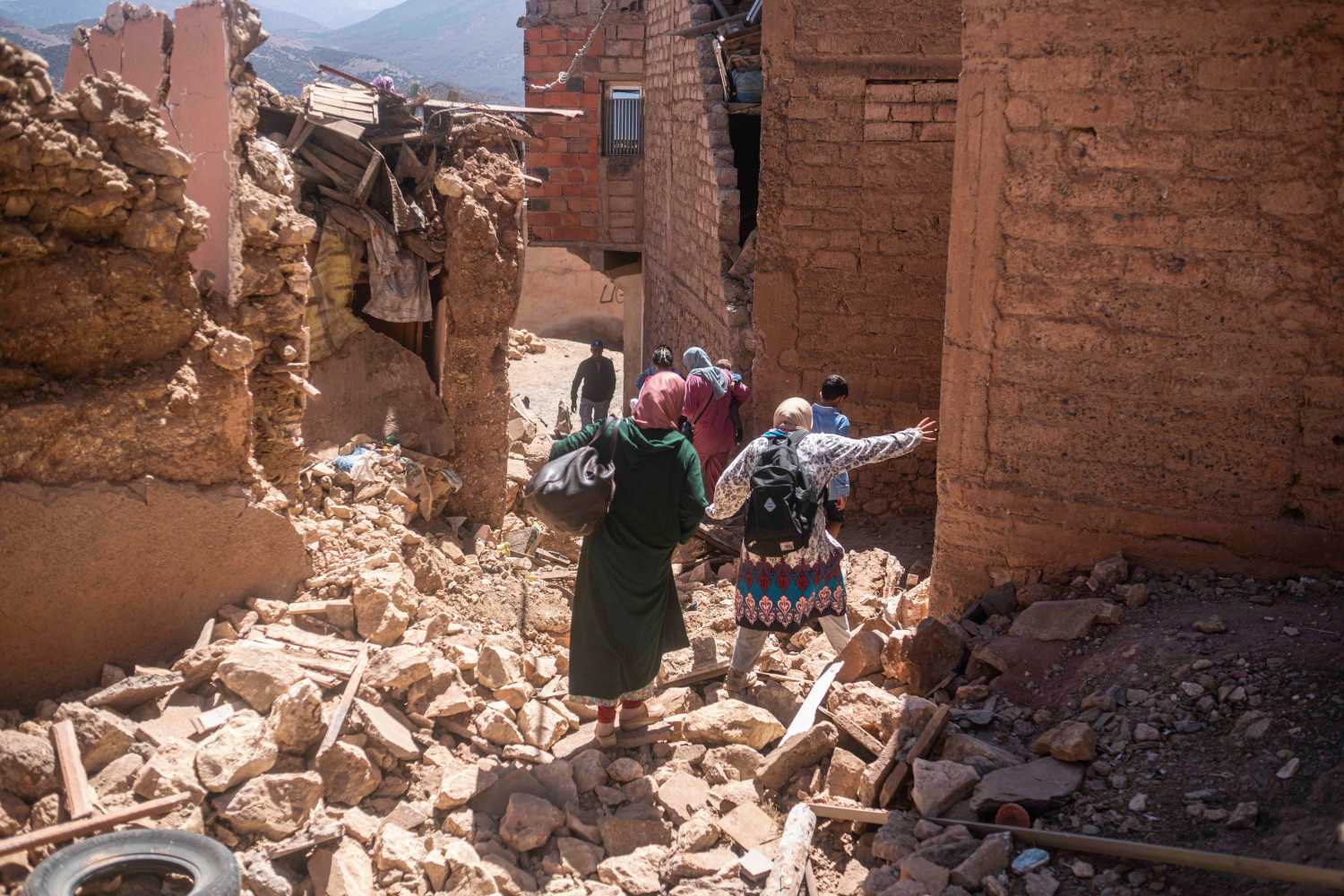 Join Hands for Morocco & Libya
The recent 6.8 magnitude earthquake in Morocco and catastrophic floods in Libya have left thousands in dire need of assistance. The toll on human lives has been devastating, with close to 3,000 lives lost in Morocco and over 5,000 in Libya, in addition to thousands of injuries and a staggering number of displaced individuals, over 34,000 in Libya alone.
Giveth is rallying support to provide emergency supplies to the victims of these devastating catastrophes. We are actively connecting with local organizations to channel funding directly to the people who require immediate assistance.
Here's how you can make a difference:
🇱🇾 Giveth's Call - Support Libyans after flooding disaster
🇲🇦 Giveth's Call - Stand with Moroccan Earthquake Victims
---
Newly Verified Projects 🏆
In this section, we highlight some of the newly verified projects on Giveth. This is a great place to discover exciting initiatives and support them early on in their Giveth journeys, while of course earning some sweet GIVbacks. 😍

🎨 Cootoo - open source tools to foster cooperation
Cootoo is a groundbreaking set of open-source tools designed to amplify cooperation among artists. By deploying their own minting platforms and DAOs, creators can seamlessly form cooperatives, ensuring that NFT sales benefit both the artist and the co-op DAO. Your generous donations on Giveth empower this initiative, enabling artists to earn revenue independent of sales.
👩🏻‍🚀 Dream DAO
Dream DAO, is the only DAO in the Web3 space investing in Gen Zers by providing them with the essential tools and opportunities to succeed in the Web3 ecosystem.
To date, Dream DAO has successfully hosted over 80 Learning Together sessions, provided scholarships for more than 20 Builders to attend global conferences, and established internship programs that paired a dozen Builders with Champions for direct mentorship and guidance.
Hey (formerly Lenster) is a decentralized social media platform driven by Lens Protocol, residing on the Polygon network with zero gas fees. It empowers users by safeguarding their content from removal, even by administrators. Lenster addresses privacy, spam, and downtime issues prevalent in traditional social media. By donating to Lenster on Giveth, you support its mission to revolutionize content creation and ownership, making it more accessible and user-friendly.
🎥 Lenstube
Lenstube is a groundbreaking video-sharing platform that's more than just a place to upload videos. It's a movement at the forefront of technology, utilizing blockchain and NFTs to redefine how content is created, shared, and owned. This platform, operating seamlessly on the Polygon network, empowers creators by giving them control over their work, all without the burden of gas fees.When you donate to LensTube, you're not only supporting a project, but you're actively contributing to a revolution in digital content creation.
❤️‍🔥 Temple of the Heart - Burning Man 2023
The Temple of the Heart in Black Rock City holds a special place for thousands, providing a space for reflection, solace, and emotional release. This year's design, an inviting inverted desert flower adorned with intricate lace patterns, envelops visitors in a comforting embrace. You can contribute by designing and building a flower for the altar, embodying the collective spirit of the project. Your support is vital in bringing this sacred space to life.
Wild Sherpas DAO is a dynamic community bridging the digital and physical worlds of crypto, with a special focus on India. They provide essential crypto education and envision a unique facility for remote work inspired by the Ethereum logo. By supporting Wild Sherpas DAO, you contribute to their mission of accelerating crypto adoption, fostering a vibrant crypto community, and funding public goods.
📷 Ziktalk
Ziktalk is a cutting-edge platform designed to reward creators for their content. They believe in recognizing every creator's efforts. By simply creating videos, engaging with others, and building a community, users can earn ZIK tokens, which can later be converted into real-world value. To support their mission and help fuel this innovative platform, consider making a donation on Giveth
---
GIVfriends 🫶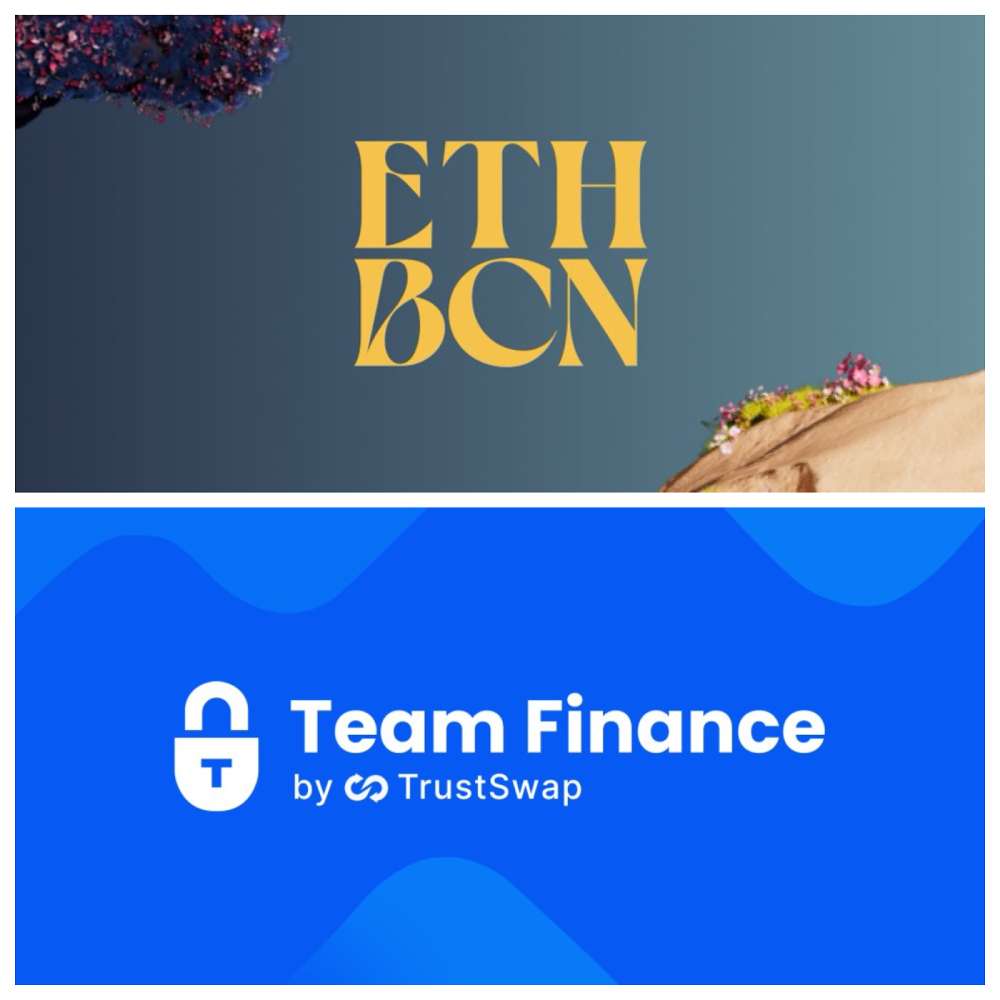 ETHBarcelona's incredible generosity shone through as they dedicated a portion of this year's ticket revenue to Giveth's Matching Pool. Their support extends even further; they've wholeheartedly backed the ETHKyiv Giveth project, demonstrating a profound commitment to shaping the future of public goods funding.
We'd also like to thank the Team Finance community for showing unwavering dedication by rallying together and raising an impressive $1,000 for Giveth. 🎉
We extend our deepest gratitude to ETHbarcelona and Team Finance for their invaluable contributions.
---
Tweet of the month 🐦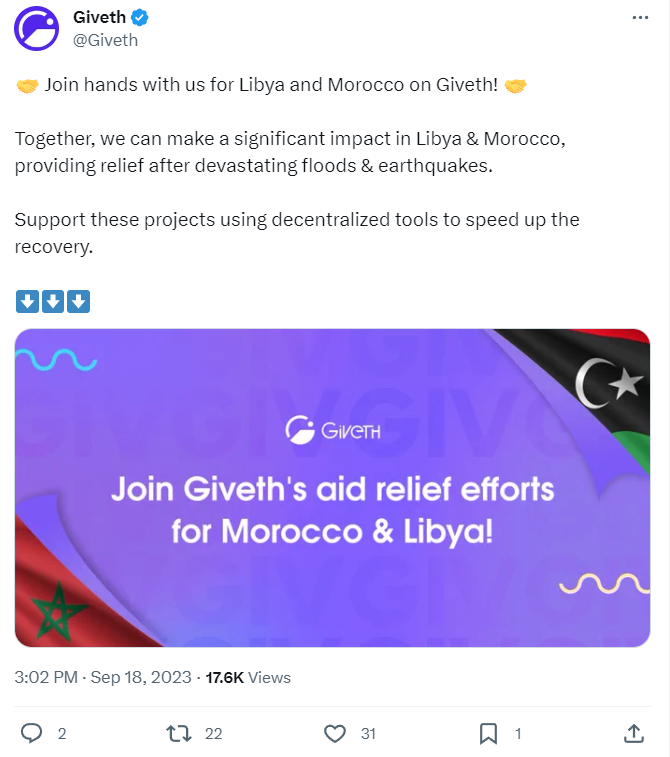 Meme of the month 😎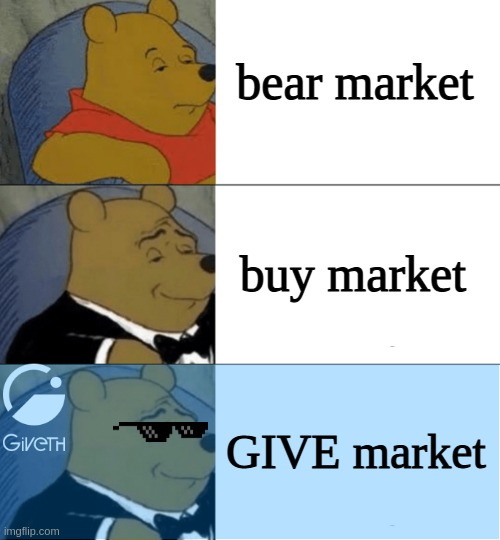 Collect this post to permanently own it.
Subscribe to GIVnews and never miss a post.