☀️GM friends!
Top Stories 👩‍💻
Our highlighted updates from everything related to the Giveth Galaxy and the GIVeconomy 🌌
Launch of the $nice token 😇 Would you like to support Giveth and get some exclusive Giveth swag delivered straight to your door? Of course you would. All you've got to do is donate DAI, xDAI or wxDAI to the Giveth project, and you'll get $nice tokens airdropped to you within a few weeks (read our article here to learn more)!

BitDAO Proposal 📜 Giveth is proposing an exciting partnership with BitDAO, which would help us double down on our ambitious roadmap of accelerating web3 public goods microeconomies. Go show our proposal some love, and let your voice be heard on the BitDAO forum.

We want to hear from you! 🙏 We want to improve Giveth and would love to hear your thoughts. Whether it's making it easier to use our platform or listing more projects, we want to know what changes you want to see. Plus, everyone that fills the form enters a draw to win $nice tokens to get free swag 👀!

The Future of Giveth 📈 At the Sustainable Blockchain Summit, Griff gave the low-down on the Giveth road to evolve the nonprofit space with public goods. It's a must watch especially if you're into Regen economies and fan of bonding curves (and let's face it, who among us isn't)!

Back to Basics  🧑‍🏫 Lauren gave an entry-level explanation of how Giveth works & how to use web3 to transform & enhance the nonprofit space.

Coming Up 🔜  Stay tuned for the release of the Giveth Angel Vault - An opportunity to support Giveth & get GIV for the lowest possible price, while being paid to do it. 
Featured Project 🙌
Expedition Grundeinkommen 💸
The Basic Income Expedition is a movement of people who want a state pilot project for unconditional basic income. Starting with Germany, they are taking the unique path of getting their pilot project off the ground with the help of direct democracy – with direct referendums.
Newly Verified 🏆
In this section, we highlight some of the newly verified projects on Giveth. This is a great place to discover exciting initiatives and support them early on in their Giveth journey, while of course earning some sweet GIVbacks 😍.
Tweet of the month 🐦
If you're feeling $nice, retweet our Twitter thread!
Meme of the month 😎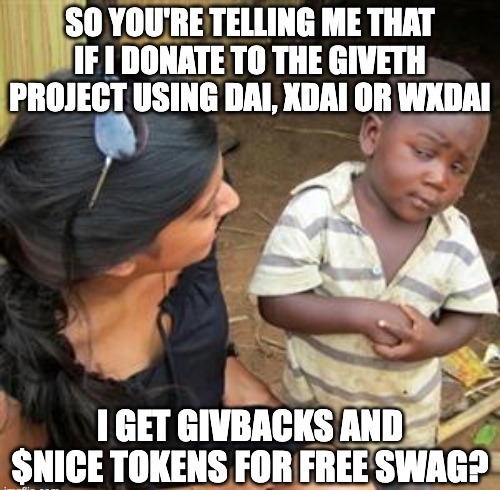 It seems too good to be true! I guess sometimes it does pay to be $nice.
Giveth Europe Tour 🇪🇺!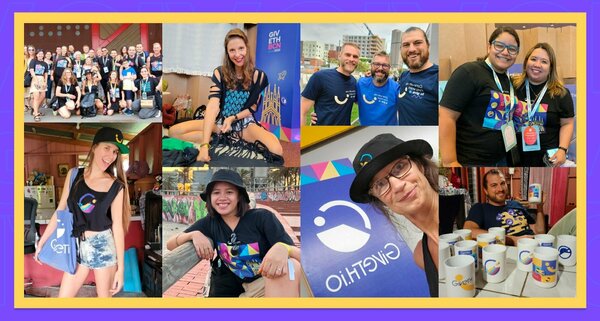 The Giveth team had a strong European showing on the conference circuit at ETH Barcelona (as a Silver Sponsor) and EthCC in Paris. The vibes were great, and we personally helped onboard hundreds of people into the GIVeconomy! 🙌 (Stay tuned for our official recap.)